Profile
This site contains a selection of printed matter made by Inge Ketelers, a Belgian graphic designer, who has been running her own studio since 1993. Alongside her studio practice she teaches graphic design at Sint-Lucas Visual Arts, Ghent (LUCA School of Arts) and is responsible for Grafische Cel since its founding in 2011.
Selected list of clients include:
Artists:
Béatrice Balcou
John Baldessari
Thomas Bayrle
Daniel Buren
Stijn Cole
Manon de Boer
Berlinde De Bruyckere
Stefaan Decostere
Philippe Decrauzat
Raoul De Keyser
Johan Grimonprez
Philip Huyghe
Harald Klingelhöller
Claude Laurens
Laurent Ney
Femmy Otten
Kurt Ryslavy
Gerhard Richter
Michael Schmidt
Ed Templeton
Pierre Toby
Niele Toroni
Philippe Vandenberg
Koen van den Broek
Daan van Golden
Marie-José Van Hee Architecten
Jan Van Oost
A.W.G. bOb Van Reeth Architecten
Dan Van Severen
Maarten Van Severen
Philippe Van Snick
Richard Venlet
Gert Verhoeven
Jan Vercruysse
Leen Voet
Ian Wilson
Museums / Publishers / Institutions:
A+ Editions, Brussels
A Prior Magazine, Ghent
Annick en Anton Herbert Collection, Ghent
Argos Centre for Art & Media, Brussels
Association Française d'Action Artistique (

AFAA

), Paris

BOZAR

, Centre for Fine Arts, Brussels
Casino Luxembourg – Forum d'art contemporain, Luxembourg
De Pont, Museum of Contemporary Art, Tilburg
De Witte Raaf, Brussels
Galerie Thomas Zander, Cologne
Gent Cultuurstad vzw, Ghent
Ghent University – Department of Architecture and urban planning

GUST

(Ghent Urban Studies Team) Ghent University
Herbert Foundation, Ghent

HISK

, Higher Institute for Fine Arts, Ghent
King Baudouin Foundation, Brussels
Kunsthaus Graz
Ludion, Ghent

MACBA

, Museu d'Art Contemporani de Barcelona
MuHKA, Antwerp
mumok, Museum moderner Kunst Stiftung Ludwig Wien, Vienna
Museo Nacional Centro de Arte Reina Sofía, Madrid
Museum Dhondt-Dhaenens, Deurle
Museum of Fine Arts Ghent
ON

LINE

vzw, Ghent
Palais des Beaux-Arts Charleroi
Richard Foncke Gallery, Ghent
S.M.A.K., Ghent
VAi – Flemish Architecture Institute, Antwerp
Van Abbemuseum, Eindhoven
Verlag der Buchhandlung Walther König, Cologne
Vlaams Bouwmeester
Vlaams Theater Instituut, Brussels

WIELS

Contemporary Art Centre, Brussels
News
Talking Letterheads. 25.01.2020
A marathon of radio interviews at Phantom Radio (91.0 FM) with contemporary Belgian graphic designers, hosted by Gerard Herman & Dylan Belgrado. Exhibition at the Design Museum's Vitrine space (Drabstraat, Ghent) accompanying the exhibition Off the Grid. Belgian Graphic Design from the 1960s and 1970s as Seen by Sara De Bondt.
Listen to the podcast Talking Letterheads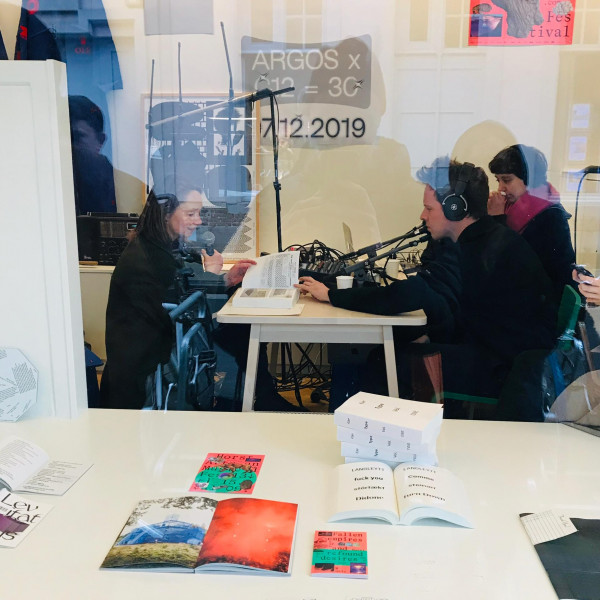 Homage to Philippe Van Snick. 13 October 2019
On Sunday 13 October 2019 at 11 am, S.M.A.K. will bid farewell to Philippe Van Snick (1946-2019) with a new publication designed by Inge Ketelers and the artist in the spring of 2019.
Programme:
11 am – An informal talk by Luk Lambrecht of the Cultuurcentrum Strombeek.
11 am – Book presentation: Philippe Van Snick – The Project. Koen Van Synghel, architect and architecture critic in conversation with Inge Ketelers, graphic designer.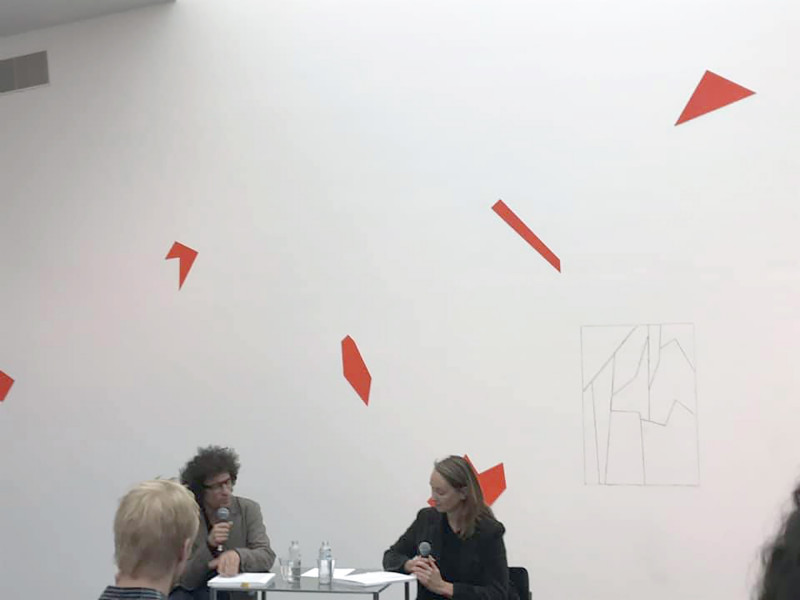 Contribution to BILL 2. A magazine of photo stories. Prioritizing visual reading without distraction.
A Place, a House, a Garden. A Life with Books and Trees, 2000–2018. For Dora. (In memory of the former architect's home of Paul Soetaert.)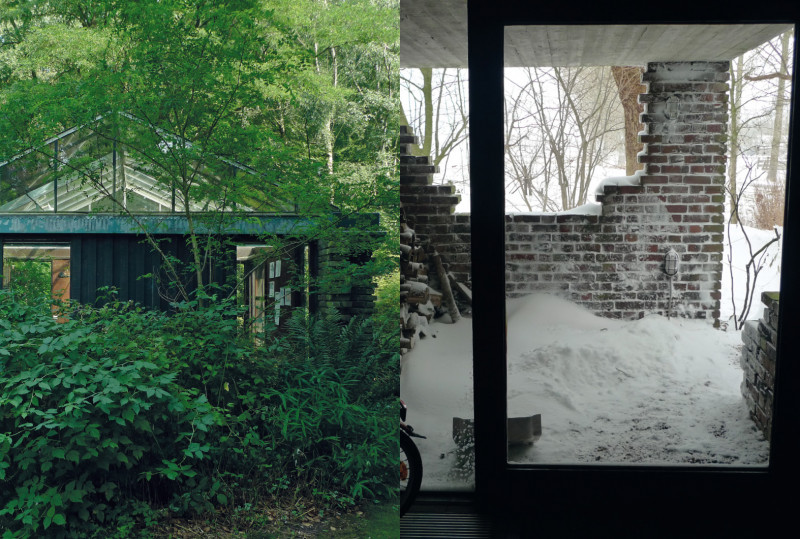 About the graphic design and typography for De Witte Raaf
Author: Florian Hardwig
Published by: Fonts In Use – Type at work in the real world (An independent archive of typography) on Apr 4th, 2018.


Kunstenaarsboeken: favoriete boeken van vormgever Inge Ketelers (19 oktober 2016)
See also: kunstenaarsboeken.kunsten.be Video by Sander Tas / Commissioned & Produced by Kunstenpunt/Flanders Arts Institute

Catalogogo
The catalogue, often considered a byproduct of art exhibitions, finally receives the attention it deserves in this celebratory Pecha Kucha-style event. Renowned artists, designers and curators present an exhibition catalogue of choice in a marathon of short presentations.
With, amongst others, Devrim Bayar, Luc Derycke, Thomas Desmet, Marc Goethals, James Goggin (on Skype from Chicago), Nav Haq, Antony Hudek, Annie Gentils, Anne-Mie Van Kerckhoven, Inge Ketelers, Joris Kritis, Anders Kreuger, Jurgen Maelfeyt, Johan Pas, Laure Prouvost, David Senior (on Skype from New York) and Natasha Soobramanien. One-day exhibition 'The Catalogue Stripped Bare': Conceptual art catalogues (1967 – 1973) collected and presented by Johan Pas. Pop-up catalogue bookstore selected by Stephan Peleman. Drinks and DJ set by London-based producer and DJ Secondo.
Friday 10 June 2016, from 7pm.
Born in Antwerp, Kattendijkdok, Oostkaai 21, 2000 Antwerpen.
Free entry, no reservation required.
Organised by Sara De Bondt as part of her research at KASK / School of Arts Gent, with interventions by its MA Graphic Design students. Supported by Born in Antwerp and the Royal Academy of Fine Arts Antwerp.

Reprint book Maarten Van Severen (second edition 2015, first edition 2000)
Originally published in 2000, this book is considered an intrinsic part of the Belgian furniture designer's oeuvre. (The book was his first monography.) This new edition, published on the tenth anniversary of Van Severen's death in 2005, offers a comprehensive overview of his many creations and inspirations through photomontage, slideshows of images, and an essay by Geert Bekaert. It shows how his ascetic tables, chairs, lamps, wardrobes, and more – designed for great simplicity and with modern materials – are synonymous with the feeling of a contemporary life. The book uncovers many aspects of his furniture, and reveals his work with Rem Koolhaas, Vitra and SMAK among others. This book is illustrated with plans, designs and sketches and has a list of exhibitions and works.

Essay (Dutch) about the design of De Witte Raaf
Author: Johan Velter
Published on June 4th, 2015

BoeckHerBerg
Second edition: 25.05.2014
Gouden Hoofd, Slachthuisstraat 96, Ghent
15:00-18:00, admission: free
Guests: Cox & Grusenmeyer, Evelien Bracke, Inge Ketelers, Jef Cuypers, Jeremy Van Humbeeck, Luca Beel, Ward Zwart.
For those who are curious about which books are treasured by artists, designers, musicians, curators and … come and have a look in the BoeckHerBerg. This event is initiated by graphic designers Laura Bergans and Anne De Boeck (BoeckBerg). BoeckHerBerg is an event about books and other printed matter, where you can have a look at the most inspiring books brought there by artists and other creative souls. But most of all, you can talk about it with them in person. It is a place for conversation, rather than a one-way talk like a lecture.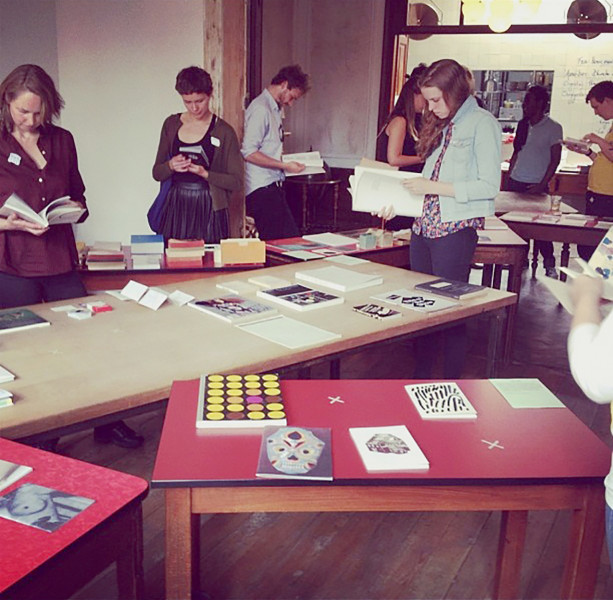 Award-winner Fernand Baudin Prize 2014
The book 'Encounters. On three films by Manon de Boer' is one of the laureates of the Fernand Baudin Prize 2014 (The most beautiful books in the Brussels-Capital region). This book is published by: OEI editör & Index – The Swedish Contemporary Art Foundation, Stockholm / Van Abbemuseum, Eindhoven. (see list)

Bold Italic 2014
10th & FINAL EDITION
Sint-Lucas Visual Arts, Ghent (LUCA School of Arts) presents an entire day related to graphic design with lectures and presentations by:
— Omar Sosa (Apartamento-magazine) (ES)
— Dimitri Broquard & Bastien Aubry (Flag) (CH)
— Manuel Raeder (D)
— Brice Domingues, Christophe Lemaitre (Officeabc) (FR)
— Stuart Bailey (UK)
+ San Serriffe – one day art book shop
Compilation Michaël Bussaer
March 20, 2014
10:30-17:30, admission: free
Kunstencentrum Vooruit, Theaterzaal
Sint-Pietersnieuwstraat 23, Ghent

The exhibition catalogue of Thomas Bayrle's traveling retrospective has been nominated in the category "Museum Catalog of the Year" for Rob Pruitt's 2013 Art Awards.

Fernand Baudin Prize in London. Publisher of the Month at X Marks the Bökship. Exhibition of the prize-winning books. 8 June to 6 July 2013. The exhibition will be ponctuated with events throughout the month of June: *15 June 2013 at 3pm: Phil Baines talks with Leen Voet, Inge Ketelers and Michaël Bussaer about prize-winning book Felix.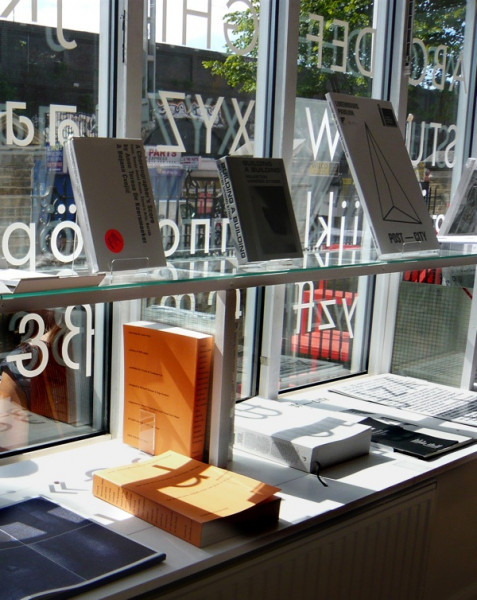 Book presentation Encounters. On three films by Manon de Boer. Van Abbemuseum, Saturday, June 8th, 2013.
Writer Lieve Joris will read a letter by Sven Augstijnen published in the book.

Award-winner Fernand Baudin Prize 2012
The book 'Felix – Leen Voet' is one of the laureates of the Fernand Baudin Prize 2012 (The most beautiful books in the Brussels-Capital region). This book is designed in collaboration with Michaël Bussaer and was published by Grafische Cel & Grotto. (see list)

Laureate 'Best Designed Books 2012'
The book 'It's a poor sort of memory that only works backwards. On the Work of Johan Grimonprez.' is one of the laureates of the Best Designed Books 2012. This book was published by The Fruitmarket Gallery (Edinburgh), Blaffer Art Museum (Houston), S.M.A.K. (Ghent) in association with ARTIST ROOMS (Tate, National Galleries of Scotland), Beeldende Kunst Strombeek/Mechelen, KASK Faculty of Fine Arts (University College of Ghent).

"It's a poor sort of memory that only works backwards." On the Work of Johan Grimonprez.
Book signing by Johan Grimonprez. Armory Fair, VIP lounge. Friday, March 4th, 2011, 5:00 – 6:30pm. Presented by Sean Kelly Gallery.
Documenting the work of the critically acclaimed filmmaker, Johan Grimonprez, It's a poor sort of memory that only works backwards is the most complete survey of the work of the Belgian artist. It assembles the most insightful dialogues and critiques of his major pieces, as well as for the very first time, fragments of the film scripts. Authors include Jodi Dean, Dany Nobus, Slavoj Žižek, Tom McCarthy, Chris Darke, Don DeLillo, Thomas Elsaesser, Alexander Provan, John Rumbiak, Catherine Bernard, Florence Montagnon and Simon Taylor.
Published by Hatje Cantz, the BLAFFER ART MUSEUM, FRUITMARKET GALLERY, Edinburgh, and S.M.A.K., Ghent, in conjunction with ARTIST ROOMS, TATE, and NATIONAL GALLERIES OF SCOTLAND, beeldende kunst STROMBEEK MECHELEN, and KASK Ghent, and with the generous support of Gallerie Kamel Mennour, Paris and the Sean Kelly Gallery, New York.

The Van Abbemuseum presented the publication 'Ian Wilson – The Discussions' on Sunday March 1st, 2009; a catalogue raisonné of all discussions by Ian Wilson between 1968 and 2008\. On the occasion of the release of this publication, Ian Wilson did host a new discussion.
After the discussion, the official book presentation took place and subsequently director of the Van Abbemuseum Charles Esche and former director Rudi Fuchs reviewed the book.

Laureate 'The Fernand Baudin Prize 2008'
The book 'Flanders Architectural Yearbook 06 07 – edition 2008' is one of the laureates of the first edition of The Fernand Baudin Prize 2008 (The most beautiful books in the Brussels-Capital region). This book is designed in collaboration with Michaël Bussaer and was published by VAi, Vlaams Architectuurinstituut. (see list)

Guest at 'De filmavonden' on February 3th, 2009 (Sint-Lucas Visual Arts, Ghent)
Introduction to the films by Marguerite Duras. 'Les Mains Négatives' (1979), 'Aurélia Steiner (Melbourne)' (1979) and 'Aurélia Steiner (Vancouver)' (1979).
Poster made by Ines Cox and Lauren Grusenmeyer.

Marc Goethals will give a reading on November 6th, 2008 in De Singel (Antwerp) within the series of Curating the Library, an initiative by Moritz Kung. He will talk about a selection of artist's books and some poems. As usual, the books will be added to the library. It is now already five years since artists, philosophers, architects, choreographers, designers and composers started presenting their favorite books as a contribution to this constantly expanding book collection. It's just a coincidence that this reading by Marc Goethals (and Andrea Fraser who will present her selection too that evening) is number 100 in the series.

'On Paper', a special collaborative project by A Prior Magazine and 5th Berlin Biennial for Contemporary Art
'On Paper' consists of six separate publications and limited editions conceived by Ahmet Ögüt, Kristina Norman, Manon de Boer (see publication Two Times 4'33" in the list), Susanne Kriemann, Cezary Bodzianowski and Paulina Olowska.
'On Paper' will be presented at PRO-QM, Almstadtstrasse 48-50, 10119 Berlin, on Friday, April 4th, 2008 between 3 and 5 pm.
'On Paper' will further be on display and available at KW, Institut for Contemporary Art, Auguststrasse 69, 10117 Berlin and through the usual distribution network.

Bold Italic 2008
Sint-Lucas Visual Arts, Ghent presents an entire day related to graphic design with lectures and presentations by:
— Laurent Benner & Jonathan Hares
— Richard Hollis
— Werkplaats Typografie
— åbäke
— Marc Goethals (Marc Goethals will give an introduction to the exhibiton 'Concrete Poetry, Fluxus and Conceptual Art: a Book Friction'.)
Compilation Michaël Bussaer
April 17th, 2008
10:30-17:00, admission: free
Kunstencentrum Vooruit, Theaterzaal
Sint-Pietersnieuwstraat 23, Ghent


Concrete Poetry, Fluxus and Conceptual Art. A Book Friction
Witte Zaal, Posteernestraat 64, Ghent, from April 17th till May 24th 2008. Opening: April 17th, 20:00.
Collector Marc Goethals is setting up a unique exhibition showcasing artists' books from the period 1968-1972. The exhibition traces how artists from the concrete poetry, Fluxus and conceptual art movements dealt with the medium of the book in their practices. Interactions between artists, mutual influences, sympathies as well as tensions are revealed. Books are shown from the publisher's lists of Hansjörg Mayer (Herman de Vries, Dieter Roth, Gerhard Rühm, et al.) and Something Else Press (Fluxus artists Robert Filliou, George Brecht, Wolf Vostell, Dick Higgins et al.) and by artists such as Lawrence Weiner, Joseph Kosuth, Allan Kaprow, Gerhard Rühm and Stanley Brouwn. Apart from artists' books, the exhibition shows magazines and presents a publication that contains an illustrated and annotated list.
This exhibition was produced by Jan Van Eyck Academie in Maastricht in 2006.

Kassel: Documenta 12 Magazines and De Witte Raaf
The project 'Documenta 12 Magazines' invited 100 magazines worldwide to organize an afternoon around the 3 central questions of Documenta 12 Magazines:
1. Is modernity our antiquity?
2. What is bare life?
3. What has to be done (education)? Two Belgian magazines were invited: A Prior Magazine and De Witte Raaf.
The afternoon of De Witte Raaf:
Thursday, September 20th, 2007
13:00-14:00 and 16:00-18:30

Web launching on April 23rd, 2007
At present this site shows a selection of printed matter, especially books, and to a lesser degree smaller works, such as invitations. The site will regularly be updated. This site has been made in collaboration with Dominique Callewaert http://www.wetnet.com.